Spray Cleaning Machine
Besides the ultrasonic cleaner, we also design and manufacture the spray cleaning machine. The spray cleaning machine series is with the high pressure spraying to effectively flush out the oil and muds from the items. This kind of spray cleaner is suitable to remove the big particles and attains good cleaning effects. The operation of the spray washer is very simple. Many customers use spray cleaning equipment to clean the big automotive parts, metal parts, etc.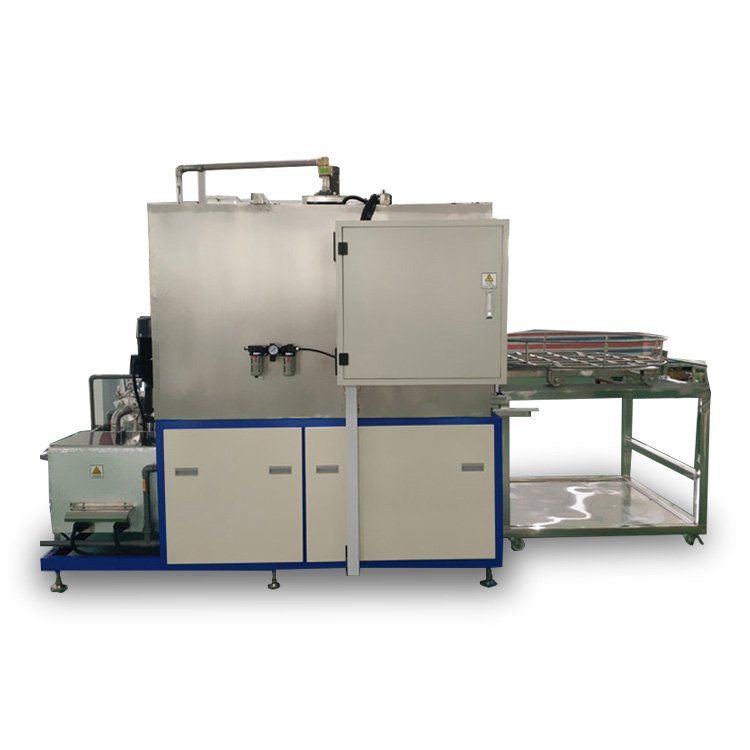 Spray Cleaning Machine
The spray cleaning machine is with the tray to put the items in. The tray can be loaded up from 50Kgs to 100Kgs. This spray cleaning machine series is with the rotation device which can get the tray to rotate in the washing room, which can make sure the items put in the tray can be thoroughly cleaned every direction. The spray washing room is an amounted nozzle pipeline from which the water spray out. The spray cleaning machine includes two types. One type is single station chemical cleaning and the other type is double stations for chemical spraying and DI water spraying. A single station spray cleaner is just with one storage tank to put the chemical. Double station spray cleaning with two storage tanks, one is for putting chemical other is for putting DI water. The positions of the nozzle can be adjustable according to the spraying effects, which ensures to reach satisfying cleaning results every time. Besides the nozzle position, the spraying pressure also can be adjustable ranging from 0.6-0.8Mpa. Customers can choose to adjust the spraying pressure when cleaning different material items. The spray cleaning machines also provided with spraying gun. If the small dirt still left on the items when finishing spraying, the operator can use the spraying gun to wash the items again.
Get in Touch with us
Still have Questions
Our Headquarters
Work Time :
8:00-22:00(Beijing time)
FAX :
86-755-36813076
Business Phone :
86-0755-23028929(Working time)
Factory Address :
Newstar Science and Technology Park, No.126 Zhangge Laodong District, Fucheng Street, Longhua District, Shenzhen, Guangdong