Industrial Ultrasonic Cleaning Machine
NSD industrial ultrasonic cleaning machine is focused on reaching the strict requirements of the different industrial sectors and manufacturing processes. Our experience for the industrial cleaning equipment starts with the company founded. NSD cleaning equipment has many types from the simple single tank to the fully automatic industrial ultrasonic cleaner. Industrial cleaning equipment also has two types, one is semi-automatic cleaning lines and another type is fully automatic cleaning lines. Semi-automatic cleaning lines during cleaning, it still needs workers to put, transfer or put the basket, and to some extent, it is more efficient than the manual operation one. The fully automatic cleaning lines during cleaning, there is no need for the workers to operate the machine, just setting the program once the machine will no need more operation. The fully automatic cleaning lines can perfectly connect to the customer production line.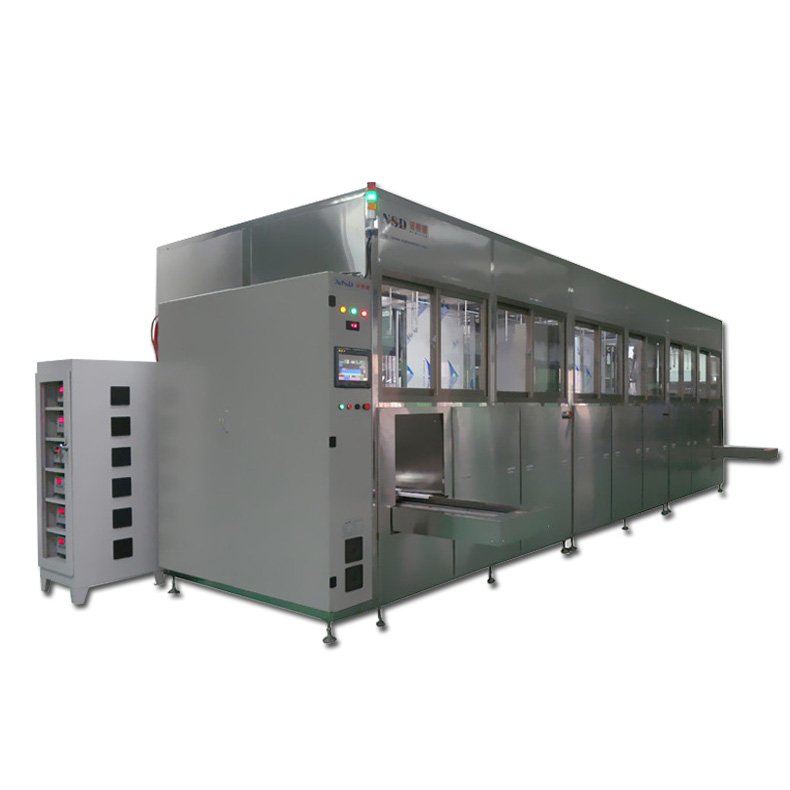 Industrial Ultrasonic Cleaning Machine
NSD ultrasonic cleaning lines can meet customer's 100% technical specifications, to make this machine and we always come to customer's factory to research and finally make solutions which customer satisfied with it. These industrial ultrasonic cleaner used in many industries like mobile screen, LCD, circuit board, TV backboard, and some other products which strict with the cleanliness. The cleaning system commonly has the following functional tanks: ultrasonic cleaning tank, ultrasonic rinsing tank, drying tank. Ultrasonic cleaning and rinsing tank generally has the following functions: ultrasonic, heat, filtering, agitating. Drying has many methods like hot air drying, centrifuge drying, infrared drying. The tanks amount decided by the requirements for the cleanliness, more functional tanks the cleaning will more efficient and the cleaning result will much better. That automatic ultrasonic cleaning machine is normally controlled by PLC with the programmer which can monitor the condition of the machine.
Get in Touch with us
Still have Questions
Our Headquarters
Work Time :
8:00-22:00(Beijing time)
FAX :
86-755-36813076
Business Phone :
86-0755-23028929(Working time)
Factory Address :
Newstar Science and Technology Park, No.126 Zhangge Laodong District, Fucheng Street, Longhua District, Shenzhen, Guangdong